Written by Daniel Quintero | 14.10.2012 @ 17:00
Posted in Coverage - TriStar Madrid 2012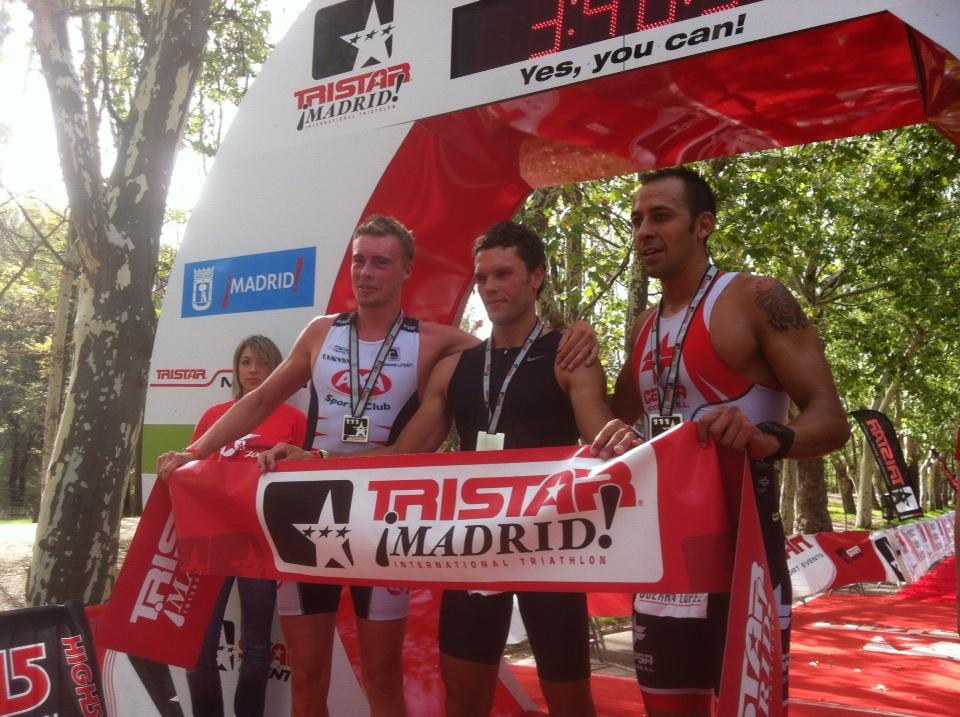 La Casa de Campo acogió la segunda edición del TriStar Madrid y contó con la presencia de Arnold Schwarzenagger, 'TRIerminator' como padrino

La segunda edcición del TriStar Madrid tuvo lugar en la Casa de Campo, y la victoria se la llevaron dos triatletas españoles. Saleta Castro y Víctor Arroyo fueron los ganadores del TriStar111 Madrid 2012, una prueba en con drafting permitido (ir en pelotón en el segmento ciclista) y con un formato muy especial: 1 km de natación, 100 km de ciclismo y 10 km de carrera pie.

El famoso actor, deportista y ex gobernador de California, Arnold Schwarzenegger, fue el encargado de dar el pistoletazo de salida de la prueba. Es la primera vez que 'TRI-erminator' era el padrino de un triatlón, y ha sido posible gracias a la colaboración entre el Arnold Classic Europe y TriStar. Tras la divertida salida Saleta Castro logró una cómoda victoria, liderando la carrera desde prácticamente el principio del segmento ciclista. En categoría masculina, el madrileño Víctor Arroyo tuvo que pelear mucho más para vencer a un grupo fuerte de triatletas que se lo puso complicado.

Saleta Castro encaró la prueba sabiendo que era la gran favorita, a pesar de la presencia de la vigente campeona, la madrileña Esther Leal y la gran nadadora Sara Pérez, una triatleta muy joven que logró la proeza de la jornada al salir la primera del agua de la general, por delante de todos los hombres inscritos. Leal trató de defender su título de 2011, pero Castro hizo una demostración impresionante sobre la bicicleta. La gallega se llevó el triunfo acabando los 111 kilómetros de competición en 4:16:29. Leal fue finalmente segunda (4h30:17) y Sara Pérez, tercera en 4h:42:33.

En categoría masculina, la carrera fue muy entretenida, debido a la terrible lucha que mantuvieron cuatro triatletas durante toda la prueba. Los principales favoritos (el sueco Lindén, el danés Morten Top Truelsen y los españoles Víctor Arroyo y Rubén Guerra) pedaleaban controlando la cabeza de carrera. Sobre el kilómetro 80 Lindén lanzó un ataque muy duro y se escapó. Comenzó la carrera a pie por la Casa de Camop con un minuto de ventaja sobre los perseguidores. Pero Víctor Arroyo realizó un excelente parcial a pie y consiguió cazarlo sobre el kilómetro 3 de carrera. El madrileño se llevó una merecidísima victoria en 3h42:30. Andreas Línden, un ex ciclista reconvertido al triatlón, fue segundo (3h43:09) y el español Rubén Guerra fue tercero. (3h:43:43). El danés Morten Top Truelsen tuvo que conformarse con la cuarta plaza.

"He nadado muy rápido hoy y me ha permitido engancharme a la cabeza de carrera con facilidad desde el principio de la bici. He tenido muchos problemas mecánicos, no podía cambiar los piñones y sólo he podido 'jugar' con los platos. Gracias a Guerra que ha hecho casi todo el trabajo no he perdido mucho con respecto al sueco. He apretado todo lo que he podido porque quería ganar a toda costa. Ha sido una carrera genial y me ha encantado descubrir este formato tan especial, espero repetir pronto en otro TriStar" indicó un feliz Víctor Arroyo en la línea de meta.

"Me ha gustado descubrir este formato, sobre todo porque se sufre menos. Al principio pude adelantar a Sara Pérez tras la natación, es increíble cómo nada, pero confiaba en mis posibilidades. Tras el ciclismo he ido a mi ritmo hasta la línea de meta. Ha sido muy divertido", dijo Saleta Castro, que es una de las mejores triatletas españolas de larga distancia.
ENGLISH:
Víctor Arroyo and Saleta Castro win TriStar111 Madrid 2012
With Arnold Schwarzenagger, 'TRIerminator' as the patron of the second edition of the TriStar Madrid, Casa de Campo hosted a fun drafing-allowed race.

The second edition of the TriStar Madrid took place in Casa de Campo park, and two of the favourites took the victory in an amazing day. Spanish Víctor Arroyo and Saleta Castro were the winners of the TriStar111 Madrid 2012 in a drafting allowed race over an unique distance hosted for the second time in the Capital of Spain: 1km swimming, 100km cycling and 10km running.

The world-famous athlete and actor, and ex Californian Governor, Arnold Schwarzenegger gave start of TriStar Madrid. This was the first time that 'TRI-erminator' assisted to a triathlon race, which became possible thanks to a partnership between TriStar Madrid and the international event Arnold Classic Europe. Afterwards Saleta Castro, Spanish Long Distance Champion, got a smooth victory –she lead the race since the first kilometres of bike leg, while Víctor Arroyo had to fight hard with a strong pack of triathletes.

Saleta Castro faced the race confident on her options, despite of the presence of the reigning winner, Esther Leal and the great swimmer Sara Pérez, a young local triathlete who was the first off the water overall! Leal tried to defend her title but Saleta was today the strongest women on the bike, and pushed hard to break with her strong cadence. Finally, Saleta Castro win in 4h16:29. Leal was second (4h30:17) and Sara Pérez, third in 4h42:33.

In the male category, the race was so exciting due to the huge fight during the hard 10-lap bike segment. The main favourites (Lindén, Morten Top Truelsen and Spanish Víctor Arroyo and Rubén Guerra) were cyling pretty fast in order to control the head of the race. But Lindén pulled away after 80 Km and took the lead. He started the run 1 minutes ahead of the chasing group! After this exhibition on the bike, he was overtaken by Víctor Arroyo, finally the winner of this exciting race. Arroyo crossed the finish line in 3h42:30. Swedish Andreas Línden, a former pro cyclist was second in 3h43:09 and Spanish Rubén Guerra was third (3h:43:43). Danish Morten Top Truelsen finished fourth.

"I swam today fast so It was easy for me to ride in the leader pack from the beginning of the cycling. I had many mechanical problems, but I got a great help from Guerra and I could start running only 1 minute behind Lindén. After the first lap running I pulled away and then I pushed a lot because I felt I could lose. It was a nice race, I really enjoyed this format and this nice distance and I'm really looking forward to race a TriStar shortly!" said a happy Víctor Arroyo at the Finishline.

"It was very nice to discover this format because of the short run after the bike. At the beginning I overtook Pérez after the swimming, she is an incredible swimmer! but I was confident... Then I finished the cycling and just tried to keep the pace till the Finish Line. It's was a fantastic day" said Saleta Castro.